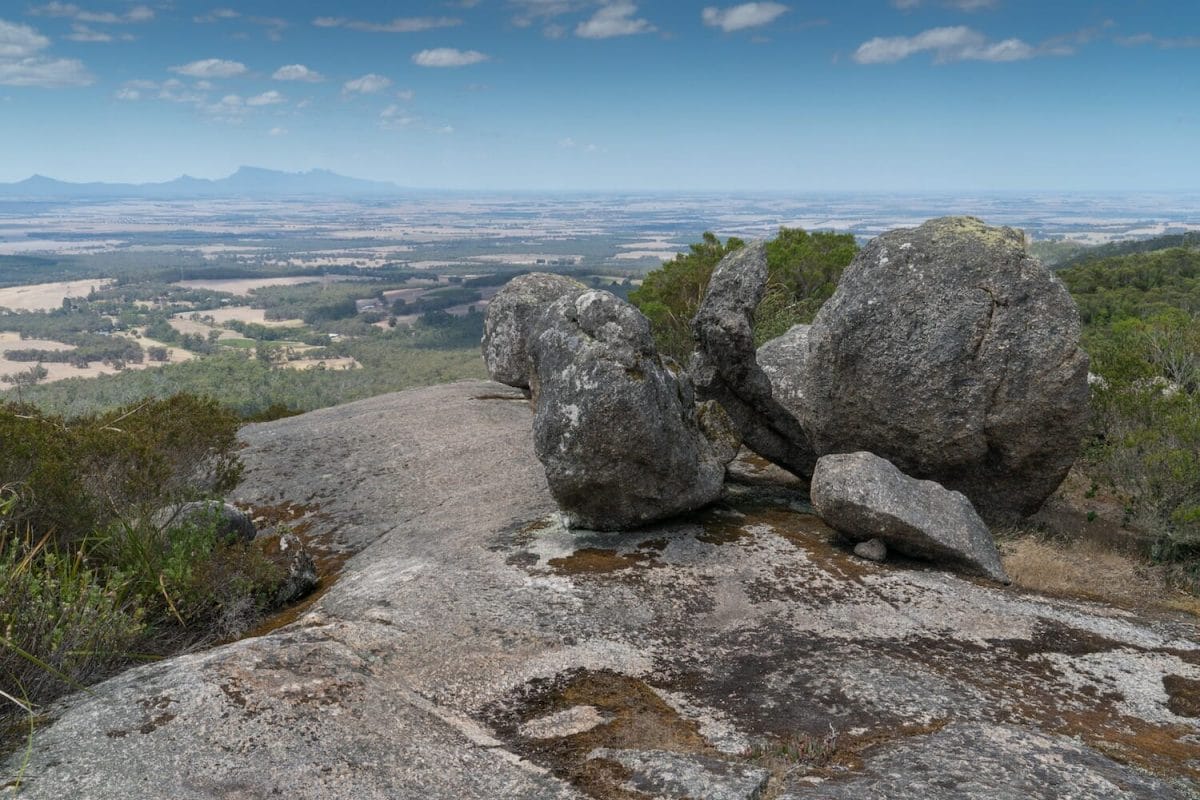 View from Porongurup National Park looking towards Stirling National Park
View from Porongurup National Park looking towards Stirling National Park
Porongurup National Park
The Porongurup National Park is 2,621 hectares (6,476 acres) in size. It may be relatively small compared to its close neighbour, the Stirling Range National Park (only 30 minutes away), but it makes up for it in beauty and nature.
Spectacular granite formations, dated at about 1,100 million years old rise up to 670 metres thrust through a canopy of giant karri and jarrah trees. The climate is typically Mediterranean with cool, wet winters and hot, dry summers. Most of the 840 millimetres average annual rainfall occurs during the months of May to September.
It has one of the richest varieties of plants in Australia with more than 700 native species. With its diverse wildlife, tall karri and open jarrah forests, and massive granite domes, the park is a haven for birdwatchers, photographers and wildflower enthusiasts who are drawn by the sheer beauty of this place.
The name Porongurup is derived from the Aboriginal name Purringorep, which was recorded by Captain Wakefield, who led the first expedition to the range. His Aboriginal guides Mokare and Nankina told him of this name.
Explore the park by taking one of the many walks or drive around and visit one of the many wineries in the area.
Handy guides:
Stirling Range National Park
Located only 30 minutes away, staying in Porongurup is an ideal base from which to also explore  the only major mountain range within the southern half of Western Australia. Stirling Range National Park is home to one of Western Australia's highest peaks, Bluff Knoll, just over a kilometre tall at 1,099m.
Handy guides: